Update: this is fixed from version v4.1.5
This has been happening to me, and I'm on app version 6.0.13. Any fix? I have logged in and out, synced project, pushed the cloud button on the top right-hand corner.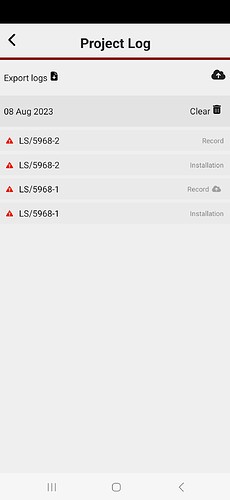 We have done a little work in this space on v6.0.14 and later. These are in beta testing now, and looks to be resolved. It will be released shortly.
Feel free to send us your exported logs if you'd like that one entry recorded.
I have version 6.0.18 and it's still happening to me saying "access denied for user"
I am also having this trouble with certain random records, it looks like the troublesome ones are from a few days in June. Not a whole day's records though.
I'm guessing this is why this project also comes up with a yellow caution sign on the main log in page on the app!
Edited to add I'm on 6.1.3, project is Te Nukuroa o Matamata and the two days with a few stuck logs are 21 and 22 June 2023
Second edit to add I just had a look on my personal phone (usually use my work phone for records but I do have the app on both) and it has some problem ones as well. I welcome any advice on how to make everything match up again!
Hi Tui,
If you can send us your logs to support@trap.nz we can take a look at why.
Out of interest were they the initial record after the trap was installed?
Andy
Cool thanks Andy, I'll do that.
I think so actually, I didnt open all of them but a couple I looked at were the install and initial set I'm pretty sure.
It seems to be the initial set records that have the trouble