The problems with food based lures are well known to many of you: mould formation, stealing, ants, the need to re-bait, and so on. The clever people from Connovation, Bofffa Miskell and Nara/Futura (I have no affiliation to any of these) have come up with a wide range of scent lures for various applications.
https://boffamiskell.co.nz/news-and-insights/article.php?v=the-newest-predator-control-tool-from-boffa-miskell
https://www.futura-germany.com/product-solutions/nara/

There are a number of ways to use these lures, but one way is to soak a porous substrate with the liquid lure and place the substrate in the trap's bait receptacle. Connovation sells terracotta substrates for several types of traps, and Nara sells polymer substrates for the same purpose.
What's missing at the moment is a terracotta substrate for standard Victor traps. Until someone decides to sell these, here is my homemade version.
Find an old terracotta plant pot saucer
This needs to be porous - some are more porous than others - check that it is porous by sitting it in a pool of water and verifying that the water soaks through to the surface - this may take an hour or two. The wall thickness of the saucer bottom needs to around 6 mm or less to fit in the trap paddle.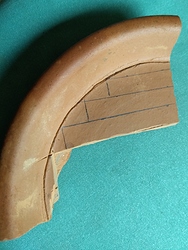 Cut the saucer into approximately 15x15x6 mm pieces
I used a Dremel with a diamond saw wheel. You could also scribe and break the saucer into pieces if you are less concerned with esthetics. The rats probably don't care. Some pieces will work, some won't. Dry/clean (a tiny bit of detergent won't go amiss) the pieces/substrates for use.

Prepare your yellow Victor trap paddles
You can either cut/grind out a rectangular hole to take the substrate, or simply remove the raised prongs in the bait receptacle (top image). The first method is the most secure, but the second seems to work fine.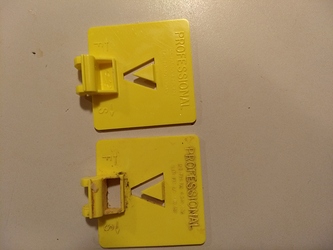 Impregnate the substrates with the lure
Place the substrates in a pool of the lure liquid (do it in sealed contained unless you want the house smelling of chocolate/peanut butter/salmon). I warm the liquid on the hot water tank to lower the viscosity and speed things up. After an hour or two you will have a set of perfect lure impregnated terracotta substrates ready for use. Press the substrate into the paddle and your are ready to go. Yay! That wasn't so difficult was it?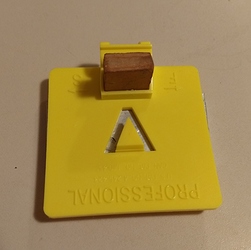 Do they work?
There is some solid evidence out there that they do. I have a few rats that would certainly agree - if they could. I have been using a chocolate Connovation lure. So far the catch rate between the terracotta lures and my standard lure (Nutella) has been pretty similar, but too early to make a definitive judgement. The lures are certainly very robust, unaffected by ants and won't go mouldy. You can also get a huge range of scents, however without better data it is difficult to judge whether they are effective or not.
The lure liquids themselves are (in my view) expensive, however you actually use very little to impregnate the tiles substrates and the lures (apparently) remain effective for at least three months in the field without re-impregnation. There are even some reports that they become more attractive over time (I will provide links if anyone is interested).
That's it for me, going out to check the traps!